Acclaimed In House Care Work Training for your Competence and Confidence
We believe that our team is our most valuable asset. To us, making sure our staff have the skills and knowledge necessary to deliver a high quality of care doesn't just mean a full five-day care work training induction – it means regular training reminders and ongoing support from our experienced team.
Our Training Instructor
Sammi our dedicated in house RGN has worked in nursing for a few years and has been a care worker herself. Her considerable experience means she has a strong understanding of the role she is training for.
At NR Care, we give all of our new care workers a full five day induction. Delivered in house by our instructor Sammi (RGN), our induction is based around the 15 standards of the Care Certificate introduced in April 2015. Designed to give you a solid grounding in your responsibilities as a care worker, the Care Certificate training is delivered through a classroom based programme and you'll receive a workbook documenting your progress.
Introduction to NR Care

Health and Safety including fire, COSHH, legislation

Risk assessments

Data protection, Duty of care, person centred care, privacy and dignity
Emergency aid theory

Emergency aid practical

Infection control
Safeguarding (following Norfolk Adult Safeguarding Board's recommended training package)

Dementia

Equality and Diversity

Fluids and nutrition
Moving and positioning theory

Practical

Communication
Medication (following Norfolk Medication Support Service's recommended training package)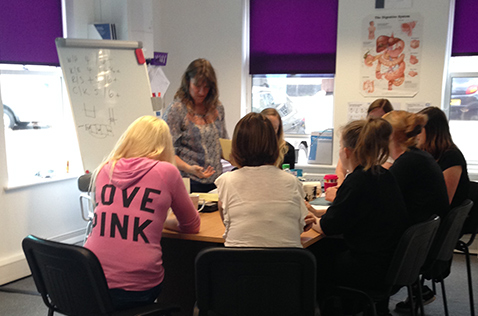 After the five days' Care Certificate training, you must complete at least two shifts shadowed by an experienced care worker, often a senior care worker. You can't start working alone until you have done this and your Care Certificate workbook has been signed off as complete by your assessor. If you don't feel ready to start working alone after the two shifts, that's not a problem – you can do the shadowed work for as long as it takes you to gain the confidence to work alone. At NR Care, we don't think there's a 'one size fits all' training plan, just like we don't think there's a 'one size fits all' care plan. Your assessor and the rest of our team will be here to support you.
You will receive a bonus for passing probation and signing up to the DBS Update.
Training Updates
At NR Care, we take all care work training seriously, and we always provide our staff with training updates when necessary. We provide yearly updates for Moving and Positioning, Safeguarding, Medication, and Emergency First Aid, each session lasts three hours.
External Candidates and Individuals or Companies
We offer places on our training courses to external candidates / individuals or companies.  Please email us for further details.
Training Testimonials
Our in house training sessions continue to receive an overwhelmingly positive response. Take a look at what some of our staff have said about them on our anonymous feedback forms.